Share On Social Media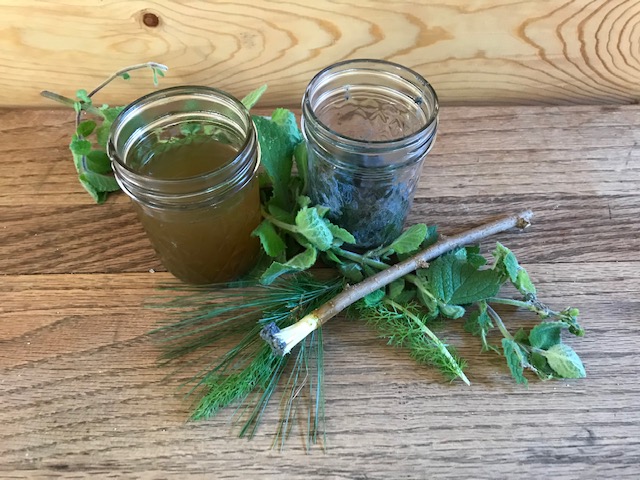 One of the blessings of chronic illness is it forces you to take care of yourself. It forced me to listen to my body.  Yeah, I know it sounds woo-woo. But, learning to slow down and take notice of the way things effect my body is one way I've found solace from chronic debilitating auto immune diseases. Because I learned to listen I figured out that my toothpaste was causing a stomach ache. Which led me to researching the ingredients and that is when I stopped using toothpaste all together for a very long time.  I just couldn't find one I was happy with that made my teeth feel clean or had ingredients I was willing to use daily.  I also started diving into wild edibles, wild medicinals and growing medicinals in my garden.  I have tweaked this recipe over the years by adding things and removing others.  Today this is my favorite rendition of toothpaste that I feel leaves my teeth, gums and belly feeling clean and happy.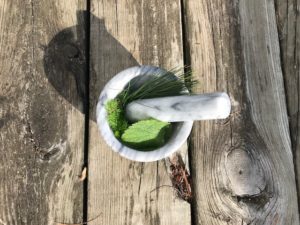 Pine, Yarrow and Peppermint Clay toothpaste:
4 Tbs clay
1/2 t or 1 capsule of charcoal
1/2 t Himalayan salt
4 Tbs tallow, preferably grass fed or wild harvested
Brew the liquid for the tea (combine 2 sprigs of yarrow, 6-8 peppermint leaves and handful of pine needles,  and 8 oz of water) You should first crush the leaves and needles to help the oils release then add them to the water to steep for several minutes.
Add 4 Tbs of this tea to the clay, salt, charcoal and tallow then mix until smooth.  You can now add some essential oils or stevia if you wish.  I prefer to add nothing.
This makes about 3 oz.  If it dries out you can add some warm water and stir.  I store it in a jelly jar.
With the remaining liquid from your tea…
Pine, Yarrow, Peppermint and Salt Mouth Wash
Add 2t of your Himalayan salt to your mouth wash. I store this in a jelly jar on the counter.  It does not last long so I do keep it on the counter.  It makes about 7 ounces.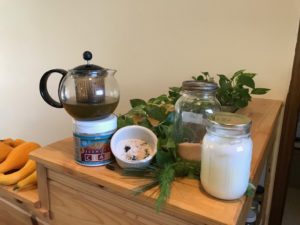 Bentonite Clay:
One of the two controversial ingredients in the recipe.  It is a natural abrasive and can support inflammation which I struggle with due to my health conditions. Some say it can help remineralize teeth others claim it does not.  It does have a small amount of lead in it, but many, many things do.  Link to more info about clay and lead here.
Charcoal:
Now you can use activated charcoal or homemade charcoal from a safe tree source or you can use tablets as I did.  This is not charcoal you start your barbecue with. I think you have all started to see charcoal toothpaste on the market.  I chose this because it can help whiten teeth and is full of minerals.
Himalayan Salt:
Also chosen for its mineral content and ability to balance oral PH assisting in balancing bacteria in the mouth. There are more benefits but I will link to an actual dental clinic who wrote an article about salt rinses for oral health.
Tallow:
Tallow is the second controversial ingredient because it is a saturated fat and it is an animal product. This is a fat taken from deer, cows or sheep.  One reason is my fats are either locally pasture raised and grass fed or wild harvested.  All other fats in my region must be shipped in or are seed oils, which are heavily processed. Personally I avoid seed oils due to their effects on my inflammation.  Tallow is minimally processed to get to my toothbrush. The other reason is for its healing properties.  Tallow has been used on skin issues for eons.  I will link to a Wiki article about the vitamins and properties that make this fat so desirable for skin and oral health.  And the last reason I chose it is because tallow remains soft but not melted even at normal room temperatures.  It is why it was used in traditional pemmican recipes.
Pine needles:
The main reason for this is the vitamin c content which is much higher than lemon. Vitamin C is excellent for oral health.  They have done many studies on this.  It is the reason I also make my mouth wash with it.
Peppermint:
Cool, refreshing, and tastes good!  I mean do I need more excuses to add it?  I don't but I  found more because thats what I love to do.  Peppermint helps with bad breath.  It isn't just a myth, its proven!  So again I will add another study on this.  In the study they use the clinical name for bad breath which is, halitosis.
Yarrow:
I chose yarrow because of healing properties that  help with swollen and bleeding gums which you can have even if you have good oral hygiene due to inflammation and autoimmune disease.  Some interesting info on yarrow and other herbs linked from another dental clinic.
All of these ingredients can be purchased but I chose to grow and forage for many of them. Anything you put in or on your body can always have side effects or create reactions so it is important to consult your dentist and/or doctor with questions. I am not a doctor, or a dentist, or a herbalist.  This blog is about how I and sometimes my family do life.  We've found that the closer we follow a seasonal and local wildcrafted diet, the better we feel.
Links to articles noted above (also linked above)
https://wellnessmama.com/natural-home/lead-in-bentonite-clay/
https://en.wikipedia.org/wiki/Tallow
https://pubmed.ncbi.nlm.nih.gov/2676112/
https://www.ncbi.nlm.nih.gov/pmc/articles/PMC3894100/
https://www.sutherlanddental.com.au/blog/benefits-of-saltwater-rinse-for-oral-health/
https://www.robinafamilydental.com.au/blog/herbs-and-gingival-health-19465.html
I also must add that the links to purchase products are affiliate links.  I have high standards and only use this for products I have personally used.  The two links I will post are for the clay and charcoal.  I have used both of these products for several years.
Redmonds Clay,
Activated Charcoal:
Share On Social Media