Share On Social Media
Some of these products are not primitive or whatever description you may want to use.  They are however products I use daily in my life.  I've said before we straddle this life of primitive, off grid, Rewilder Life and modern living. Well one of the things we do have is a freezer and internet with wifi. We have also had a freezer fail and leave us with a bunch of bad food.  So we have decided to use a wifi/bluetooth temperature and humidity thermometer.  You could actually use it anywhere in your home to check on things, this one will also work for a freezer.  It connects to your phone and I get updates anywhere I have a cellphone signal. It also has alarms where I can set the temperature or humidity at a specific degree or percent and it will tell me if something is having issues.  So, below is a link to the device we use and like.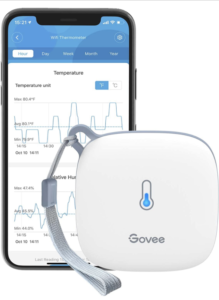 Govee WiFi Thermometer Hygrometer H5179
Smart Humidity Temperature Sensor
The Excalibur Food Dehydrator is one that is loved by many homesteaders, I am one of those!  I have two!  I prefer gadgets with no digital timers or thermometers because they fail.  A dial has far less places to fail, simplicity is not overrated when it comes to failure and repairs for us. You can always purchase a timer to plug it into if you wish.   The dehydrator is on sale currently and has a coupon, I have no idea how long this sale will last.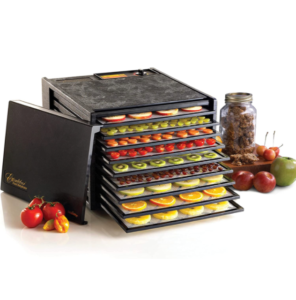 Excalibur 9-Tray Food Dehydrator
Note: As an Amazon Associate, I earn a small amount from qualifying purchases through links from this website.
Share On Social Media