Share On Social Media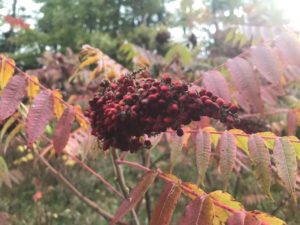 Note: As an Amazon Associate, I earn a small amount from qualifying purchases through links from this website.
Foraging, also known as wildcrafting,  is one of my favorite past times, if you decided to take a walk with me in the woods, on the beach or in a field it will be a wandering stop and start filled with photos for later identification.  If you want to actually walk for the mere exercise of going from point A to point B, I'm probably the wrong person to stroll with.
This last week has been a week where every walk has involved me harvesting something.  By now one would think I would remember to bring my foraging bag, but I forgot it.  So I stuffed my pockets full of seeds, leaves, and took lots of photos.  My kids have laughed and said that I am like a child. They comment they would never wash my clothes without emptying my pockets first! It's true!
My daughter caught this photograph of me
getting poked by wild rose thorns…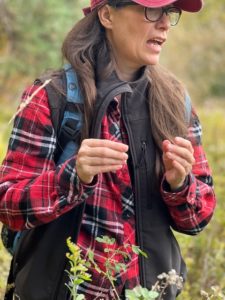 A few weeks ago I collected Staghorn Sumac.  It is a colorful small tree with clusters of red berries that grows really well here in Northern Michigan.  It is used medicinally, for a culinary spice, dye , smoking bees, and probably many things I am unaware of.  There is also a poison sumac so be sure to identify this properly.
I discovered it was medicinal and not just culinary when I purchased a herbal book.  I have not used it medicinally, but I will probably use the mouthwash recipe in the book.
Medicinal:
This plant has been studied for its vitamins, minerals, flavonoids, antioxidants, its ability to help with blood sugar regulation, ability to help with fungus and bacteria, effects on organs,  antiviral, clotting, liver benefits….and so much more.  I will link to some studies if you want to review it more.
Study: Effect of Sumac on blood sugar
Study: Medicinal, nutrition, and more of Sumac
Paper: Cardiologist on effects of Sumac on C
Culinary:
This is the reason l gathered it. I think I am always talking about food or thinking about food.   It is one of the things that makes life enjoyable! And yet it can also be medicine and healing.  Sumac can be made into a lemonade since it has a citrusy flavor.  But most use it as a spice on meat and salads. You can use it as a substitute for lemon juice or zest in recipes. Some people use it in hummus or on breads.  It is used in many ethnic foods, commonly in a spice called za'atar.  Za'atar has several different variations.  I am trying a recipe I've adapted for things I mostly grow and wildcraft here.  I have seen these in several variations but never together like this.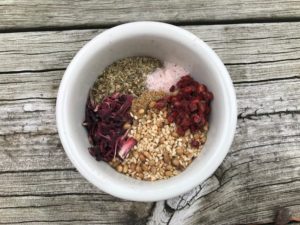 Za'atar
1 TB ground dried oregano (home grown)
1TB Cumin seed, toasted
1T Coriander seed, toasted
1T Toasted Sesame Seeds
1.5t. Sumac ground (foraged)
1.5t  Hibiscus leaves ground (home grown)
1/2 t. Salt
Toast according to directions above and then grind in a mortar and pestle or food processor. I think I will be experimenting with our gluten free sourdough and this spice.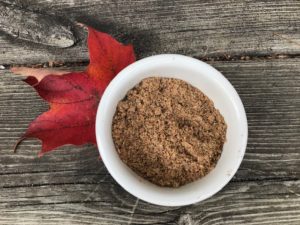 Links:
Seeds, so you too can grow some yumminess..:
If you don't have the spices or ability to grow there here are easy links off Amazon:
Things to consider:
A link on spices and the treatment of them. Did you know a lot of your food is irradiated?  The article explains it with a lot of links to clarify what it means.  I prefer to source ingredients that are not irradiated but I appreciate her research.
Also, I am not a professional forager or herbalist, though you should stay tuned to the podcast, we are scheduling interviews with some really well qualified people. Because I am not a professional you need to remember this is what I do for myself and my family, this blog is for entertainment and a personal journey.
Share On Social Media