Share On Social Media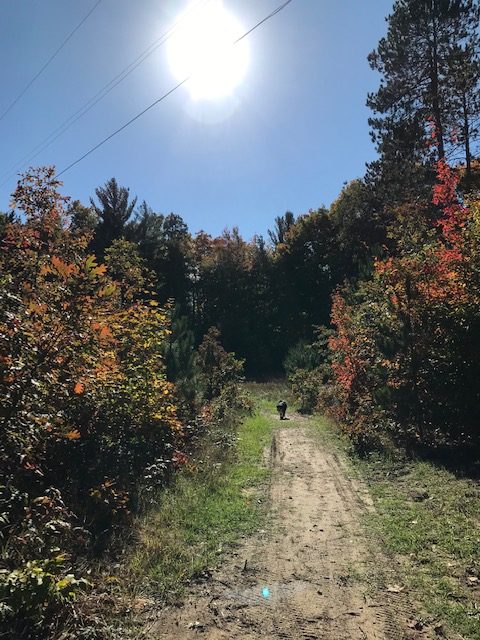 I spent most of my childhood in town, many small towns,  but in town.  I was not connected to my food  the way I am now. I enjoyed hiking and escaping to the little places in town or in the neighborhoods we lived as a kid.  I would ride my bike to them and park myself to observe, read, draw. When I was growing up my family spent some time traveling to visit some beautiful national parks.  I loved these times, it was then that my dreams and aspirations started to form.  Dreams about wild untouched places, living with nature, learning about all its little secrets. My husband didn't spend time traveling as a child but he learned to immerse himself in the wilderness in a way I am still learning.  I struggle sometimes to quiet and settle myself so I can enjoy and learn. All these years with him (almost 33) and I am still learning how to enjoy the stillness like he does.  He can sit for hours and be part of the forest around him. While I get antsy and struggle calm my thoughts. He also has this uncanny sense of direction. No matter where we are he seems to have this internal sense of direction and a compass. I am the opposite and really have to think and pay attention.  I am learning, slowly to calm myself when I enter the woods and take in my surroundings. I am learning from a master.
We love the wildlife and woods but we do hunt and harvest meat from the woods. For many years this was survival for us.  We used an old family rifle or a bow, the same clothing and boots we wore outside, and harvested ourselves.  The whole event costs us time, ammunition or an arrow and some freezer paper. It was one of the cheapest and healthiest ways for us to feed ourselves.  It also brought us connection to our food and the woods. We honor the animal with eating as much as we could, wasting as little as possible and a humane death. It is not something we take lightly.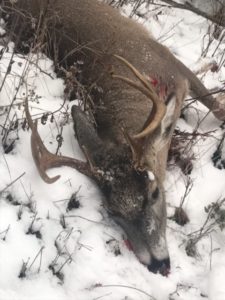 So "a hunting we go", or this year, he went (I was unable to).  All summer he watched for signs and  then placed himself where he saw trails or evidence of deer.  On opening day of rifle, after sitting it the woods for bow season without any harvest, he was able to harvest a nice buck. As always, he was a good shot and the deer was down quickly. Once the deer was down in the woods the deer is field dressed, meaning it is gutted in the woods or a field.  Currently we take the heart, liver and kidneys.  In the future we will probably harvest the spleen as well. Below you see me inspecting and washing the organs.  These were beautiful and healthy so I washed and packaged them for the freezer. While I was doing this my husband was washing the deer and hanging it in the garage under the supervision of Scout our dog. He has learned butchering means some tasty morsels.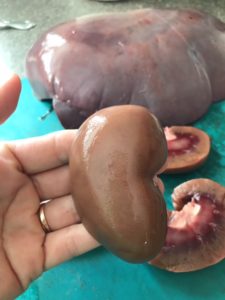 When the weather is helpful and provides natural refrigeration we prefer to hang the deer for a week to 10 days, this year was one of the years mother nature was helpful.   This  Aging helps tenderize the meat. We then quarter it and bring it inside to process at the kitchen table.  Our kitchen has always been the place we do these things.  I have an old table and a lot of counter space for this reason.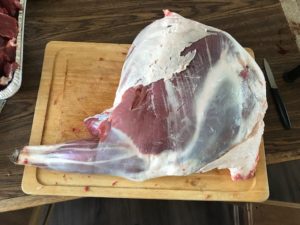 We aren't professionals and we aren't chefs.  We eat pretty simply.  Our cuts are burger, roasts, jerky, and tenderloins. The jerky is wet brined and put into the fridge for a few days before dehydrating or smoking.  The roasts are all cured for corned venison, which takes 5 days and then I can it. Burger is used for anything we'd use beef or pork for, we often mix the three together. The tenderloin, we enjoy just fried medium rare in a skillet and often with some mushrooms and onions.
After years of hand grinding using a hand crank grinder that attached to the lip of the table or counter we were finally able to afford a large beefy electric grinder to help us with processing meat. It has been so nice to not spend hours hand grinding but we have the memories of 'good old days'. Stories our kids can share about processing (it's a right of passage, isn't it? To share such stories). From here it goes into jars and the freezer.
What do I do with the offal, otherwise known as organs?  Well the kidney and heart we actually like to eat.  The heart is usually made into chili, the kidney into a shepard's pie and the liver…that is the one we struggle with.  I try to hide it in my food, but none of us love it.  I have found that we do like liverwurst but I need to perfect the process in how I make it.  The flavor is good but the presentation is lacking and doesn't look appetizing. We do also put it in the dog food we sometimes make for Scout.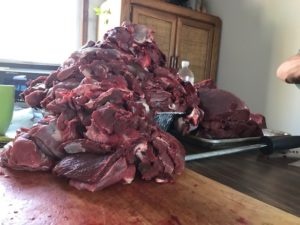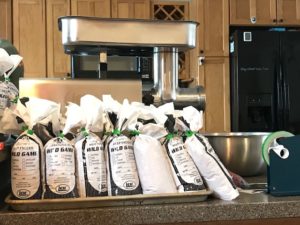 Here are my recipes, I do get a kickback from Amazon for anything you buy when you use these links. Thank you for your support.
Brine for Jerky:
1 Quart water
1/4 cup salt
1/2 cup brown sugar
1/2 tsp cayenne  pepper
1/2 tsp pepper
1/2 tsp pepper flakes  
1/2 smoked paprika
Brine for one week in the fridge and dry or smoke
———————————————————————————————————————————————–
Corned Venison
Makes one 2-4 pound roast
Prep: 5 days
Cook 3 hours
1/2 gallon water
Heaping 1/2 cup kosher salt
1/3 cup sugar (you could use maple syrup or honey)
1/2 ounce instacure No 1 (sodium nitrate, pink stuff)—You can just omit this if you like, it will cause a little different flavor and color.  I have done it both ways.
1 TBS Cracked black pepper
1 TBS toasted coriander seeds (this is cilantro that has gone to seed, you can harvest from your garden)
6 bay leaves, crushed or 2-3 juniper berries per bay leaf  (12-18) (I use juniper because it is harvested locally by me)
1 TBS mustard seed
1TBS dried thyme – easy to grow in the garden
1 TBS caraway seeds – I have seeds but have not gown yet
6 cloves 
5 chopped garlic cloves, crushed- hopefully you have yours planted now
A 3 to 5 pound venison roast
Add everything but the roast and bring it to a boil. Turn off temp and cover.  Let it cool down to room temperature while covered.  It will take a few hours.  Meanwhile, trim away silver skin you find off the roast. Once cooled add the roast to the brine and make sure it is covered.
You can weigh down with a clean stone or a plate.  Cover and place in fridge 5-7 days, depending on the roast size. The longer it is brined, the saltier it will be.
After the allotted time has passed, you have corned benison.  To cook and east, rinse off the meat and put in in a pot just large enough to cover with fresh water. You don't want too large a pot or the fresh water will leach out too much flavor form the meat–its an osmosis thing. Gently simmer, do not boil for at least 3 hours and up to 5 hours.
Eat hot or cold.
Can at normal canning time for meat.
Links:
These are affiliate links, meaning I do get some kickback for posting them.  Thank you for your support.
Book Link for Dog Food:
Yin and Yang Nutrition for Dogs
Share On Social Media